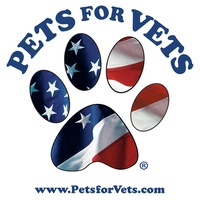 Pets for Vets, Southeast Michigan Chapter is an Animal Assisted Intevention that meticulously and thoughtfully creates long term human-animal bonds with companion animals producing a more holistic approach to address the multi-dimensional disorder, PTSD, providing an alternative treatment regimen in combination with traditional therapies in order to increase quality of life for both the veteran and the rescue animal.
Many of our brave soldiers have returned home with physical and psychological injuries that have made it difficult to transition back to civilian life. Estimates state that as many as 20 percent of returning military veterans suffer from Post-Traumatic Stress Disorder (PTSD). This affects not only the veterans but also their families, communities and our country as a whole.
According to the ASPCA, four million animals were being euthanized across the country each year; this translates into one animal every six seconds. Many of these dogs and cats could make great companion animals but they were never given that chance. Medical studies have shown that companion animals significantly improve the mental and physical health, including reducing stress, depression and anxiety symptoms. These are symptoms many humans experience but are especially prevalent among the combat veteran population.
For those returning from Iraq and Afghanistan, dogs can be the life-saving therapy they need to fight the battle of combat stress. The human-animal bond is powerful; it has the ability to enrich our lives, bring unconditional love, joy and even improve emotional and phyiscal health.
Veterans and shelter animals have both been through tramatic events; together they can help each other heal.
Check them out at www.pets-for-vets.com
Charity Auction
For the past two years we have managed to raise $7000 and $8000, respectively, and this year we're looking to get that number even higher! We need your help to do that! Our Charity Auction is the single largest producer of donations during the convention and it's thanks to the awesome donations from you that have made it so!
If you're interested in helping us out and bring in some money for to help both veterans and rescue animals please fill out this form!